Child Custody and Visitation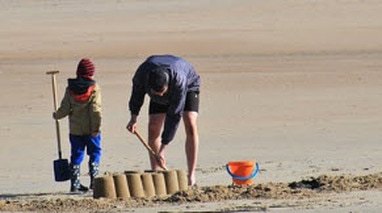 One of the most challenging and stressful issues you may deal with involve a Child Custody dispute. A lot is at stake during a custody battle. Our Attorneys will be an advocate for you and your child(ren) and will argue for your rights and your child(ren)'s. We can also help you understand all legal steps and precautions necessary to help ensure your legal rights, as a parent, are protected.
Court cases involving custody can occur on their own or in combination with a Divorce or Domestic Violence. Our Attorneys encourage collaborative parenting, whenever possible, especially since if there is no resolution between the parents, Judges will determine the time each parent has with the child(ren). We strive to ensure that each parent is loving and supportive to the child(ren). We also strive to correct behavior that is detrimental to your child(ren), such as chemical dependency, alcohol abuse or abusiveness. Should your spouse require resources to help him/her become a better parent, we have the experience to make sure the proper therapy, drug and/or alcohol testing or other programs are put into place to help protect your child(ren).
Our knowledgeable Attorneys can help get you the custody schedule you desire, by representing you at court proceedings.
Types of Child Custody
The decision of Child Custody may be handed down by the Judge when a settlement is reached in a custody case. We understand that limited custody of children can be extremely difficult on both parents. Throughout the entire Child Custody case, decisions on what will be the best for your child(ren), will always be made.
The following are different types of Child Custody you should be aware of:
Legal Custody: A parent who has legal custody has the right to make important decisions for the child(ren), including which school the child(ren) will attend or any medical decisions.
Physical Custody: This type of Child Custody refers to where the child(ren) will live, the majority of the time. A parent that has sole physical custody will have the primary care-taking responsibilities of the child(ren).
Joint Custody: Parents that are able to work out a joint custody plan, will share physical or legal custody, or both. There are many legal details associated with this type of custody. Our Attorneys can help resolve all the details and intricacies with joint decision-making and custody.
Child Visitation
Once Child Custody has been established, a visitation schedule may need to be created for the non-custodial parent/grandparent. There is a lot of negotiating involved when creating a visitation schedule and you want to make sure yours and your child(ren)'s interests are addressed. Our qualified Attorneys can help you create a visitation schedule that is best for your child(ren).
When a Judge believes one parent poses a threat to the child, the Judge may order supervised visitation necessary for the child(ren)'s safety and well-being. You will want to hire a knowledgeable Attorney that can help ensure these types of visitations are enforced.
Child Custody or Visitation Modification
It is important to remember, once your custody arrangements and visitation schedule have been established, make sure you follow them. Failing to do so can result in serious consequences. If you are unhappy with your current Child Custody arrangements or visitation schedule, our skilled Attorneys can help you request a modification that is in the best interest of your child.
Hiring An Experienced Child Custody Attorney
Child Custody and Visitation Schedules can become very complex. With the assistance of one of our qualified Family Law Attorneys, you will feel secure knowing we always have the best interest of your child(ren) in mind.
For assistance on a Child Custody or Visitation issue, contact our office today (925-258-2020) and setup a consultation with one of our Family Law Attorneys.