Trust & Will Administration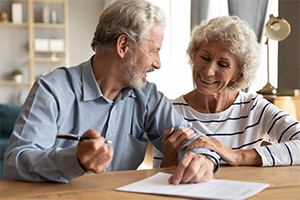 How do you ensure your assets will be distributed to your beneficiaries, after you pass on? Having a Will or Trust will help set expectations for the disbursement of all your assets and financial responsibilities. Trust and Will Administration involves transferring assets to the Trust beneficiaries upon the decedent's death.
Our knowledgeable Attorneys specialize in helping Trustees that deal with difficult beneficiaries as well as beneficiaries that feel the Trustee isn't acting in the best interest of the Trust or Will.
Definitions
Will: A document that spells out specific instructions on how you want your loved ones to handle all your assets after your death.
Trust: A fiduciary relationship between the Trustor and Trustee in order to hold title to property or assets for the benefit of a third party. Trusts can be used to allot monetary funds for any purpose, whether for children, health care related issues or any organizations.
Types of Trusts
The following are just some of the types of Trusts that our Attorneys can help create and administer:
Revocable Living Trust
Irrevocable Trust
"A Trust" or Marital Share
"B Trust" or Non-Marital Share
Charitable Remainder Trust
Children's Trust
Domestic Asset Protection Trust
Grantor Retained Annuity Trust
Irrevocable Life Insurance Trust
Qualified Personal Residence Trust
Hiring An Experienced Trust & Will Administration Attorney
To help avoid family disputes and gain the peace of mind knowing your loved one's Will or Trust is being handled correctly, it is important to hire an Attorney that knows how to handle difficult situations related to the Will and Trust Administration.
For assistance with a Trust or Will Administration, contact our office today (925-258-2020) and setup a consultation with one of our Trust and Will Attorneys.